Description
🇺🇸 English: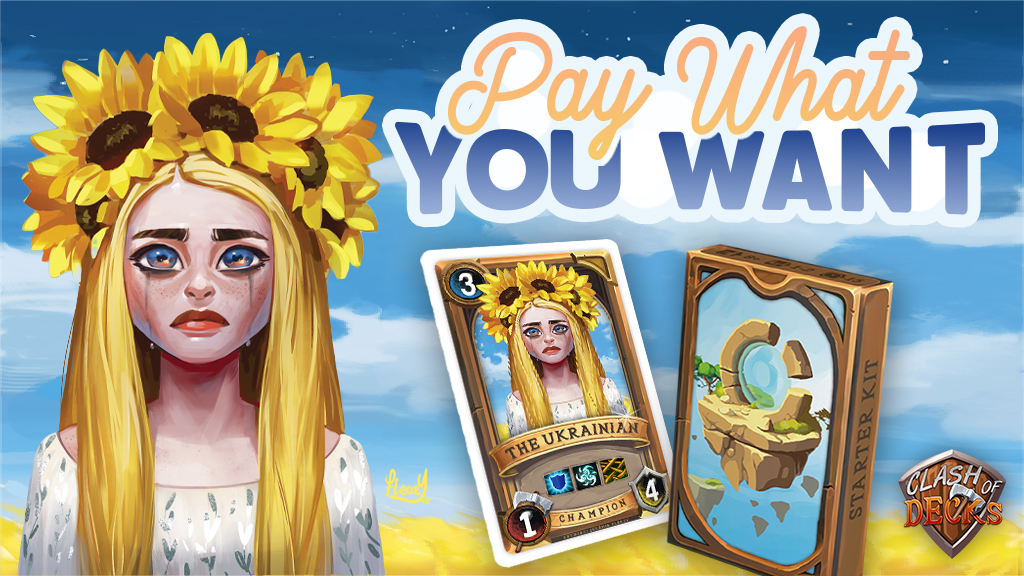 Get a copy of the Clash of Decks Starter Kit and an exclusive Champion card to support Ukrainian refugees! 🌻❤️
If you don't know Clash of Decks yet, we invite you to take a look at our previous Kickstarter campaigns (Season 1, Season 2) or at our website, where you can find more information on the game. There, you will learn about its surprising history, how it has evolved, the team who's behind the game, the 34 rules translations, its online card generator, its Champion module, its digital version on BGA, its free Print-and-Play, its different formats and play modes…
Clash of Decks is back in order to support Ukraine!
Russia has declared war against Ukraine while we were at the International Games Festival in Cannes. We took the full measure of the madness of the situation after the festival's bubbling euphoria. We knew that we had to act in a pacifist way, with the skills and means at our disposal, to support Ukraine. But at the time, we didn't know how to do it. We had to find a relevant idea and find it quickly! A few days later, while browsing Facebook, we saw an illustration that moved us: a Ukrainian woman staring at you with sunflowers in her hair and tears running down her cheeks…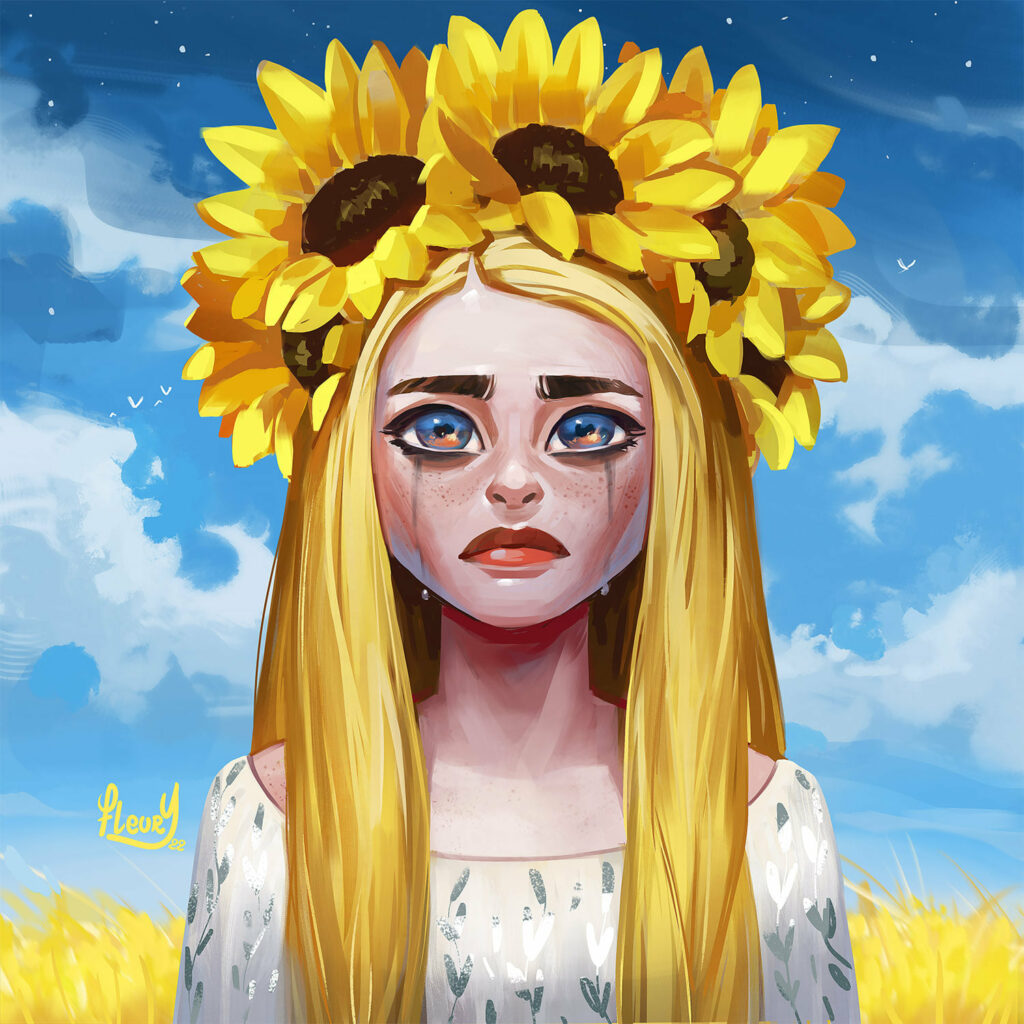 It was obvious. Our relevant idea was just found: creating an exclusive Champion card with this moving illustration for our game, Clash of Decks. We would sell it to support Ukraine! We immediately made contact with Jérémie Fleury, the illustrator. After discussing our idea of a support campaign with him, and to our immense pleasure, we were given the rights to use his illustration. Jérémie is a professional illustrator who has worked on several boardgames (First Empires, Yamataï, Fertility, Oceanos…). We are sincerely thankful for his selfless gesture which allows us to give birth to this support campaign today.
Gameplay-wise, we have chosen to create a defensive Champion card. With a single attack point and 4 HP, it also possesses 3 defensive Special Abilities: Protection (cancels the first attack targetting it each turn), Indestructible (suffers no Damage from Incantations) and Defender (cannot attack the enemy Fort, restricted to Creatures). We have designed it with a pacifist and resilient card in mind, mirroring Ukraine and the Ukrainian people.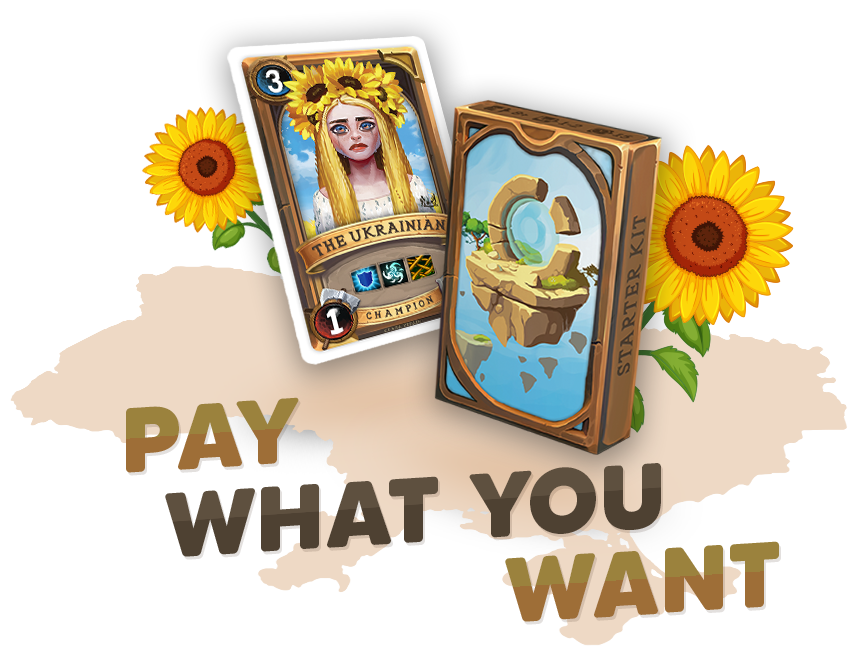 We offer a single pledge, limited to 4,000 copies. Pay what you want (for real!) and you will receive a Clash of Decks Starter Kit along with the exclusive Ukrainian Champion card in May 2022. The Starter Kit is a standalone deck of 36 cards that eases you into Clash of Decks. The exclusive Champion card is a PVC card that lets you play with a new rules module. All profits (minus the bank fees and shipping costs) will be donated to La Croix-Rouge (the French Red Cross), a humanitarian organization, to support Ukraine. We are counting on your mobilization!

Shipping costs are included in your pledge. Shipments are planned for May 2022. No VAT applicable. Pledges will be shipped from France, without tracking, in a padded envelope.
The 4,000 Starter Kits were manufactured by Carta Mundi in Belgium. We print the Champion cards ourselves, one at a time, in our office, using an Evolis Primacy printer. The 4,000 Clash of Decks Starter Kits are already in our possession (leftovers from the first Kickstarter campaign, during which we have shipped 36,000 Starter Kits out of the 40,000 ordered). We also have the 4,000 PVC Champion cards in stock, ready for print. Grammes Edition will bear the total cost of these goods which amounts to 2,720€.
We have chosen to restrict the number of pledges to 4,000 due to our current available stock and to the time we can dedicate to this supportive initiative. Because we are a small publisher, time is indeed the primary issue. This special campaign was not planned, but we consider it to be a foremost emergency. If this campaign reaches its goal, we will have to spend dozens of hours preparing and shipping pledges, like we did during the first Kickstarter campaign for Clash of Decks. And it will be our pleasure to do so!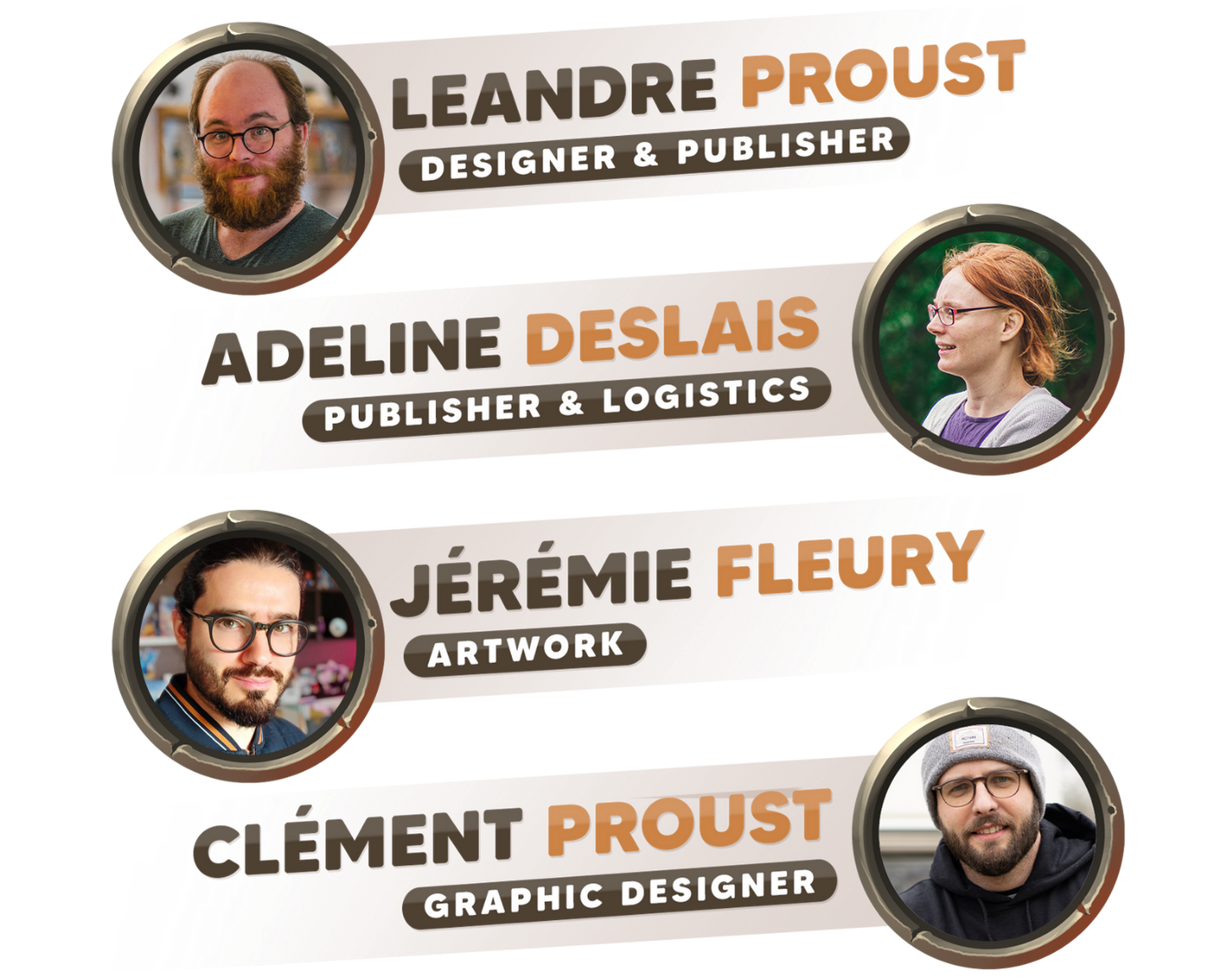 Thanks to Albin, Estelle and Siegfried for proofreading and translating this page ❤️
---
🇫🇷

Français :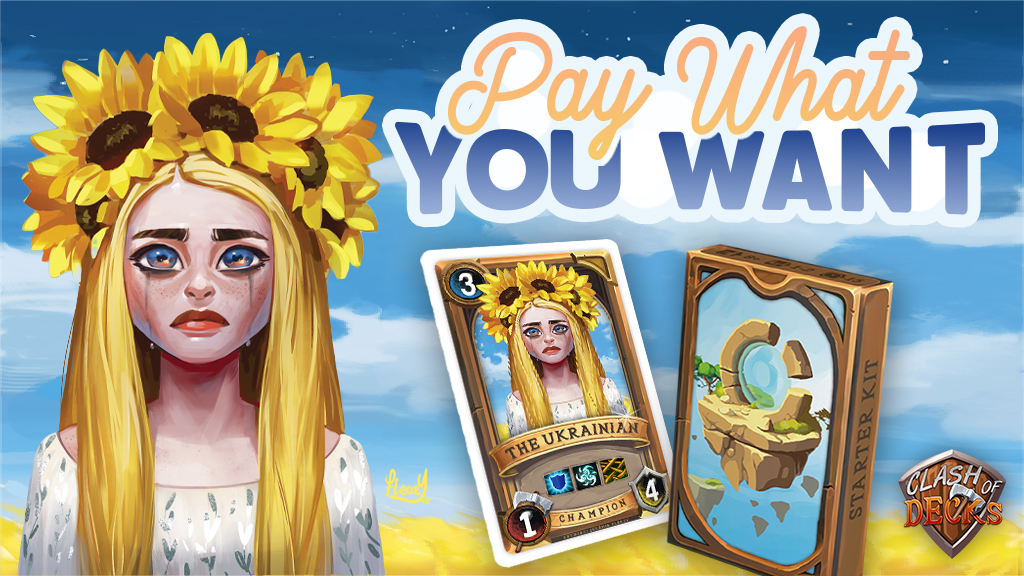 Obtenez une copie du Starter Kit de Clash of Decks et une carte Champion exclusive pour soutenir les réfugiés ukrainiens ! 🌻❤️
Si vous ne connaissez pas encore Clash of Decks, nous vous invitons à consulter nos précédentes campagnes sur Kickstarter (Saison 1, Saison 2) ou notre site web pour obtenir plus d'informations sur le jeu. Vous y découvrirez son histoire étonnante, son évolution, l'équipe derrière le jeu, ses 34 traductions de règles du jeu, son générateur de cartes en ligne, son module Champion, sa version dématérialisée sur BGA, son Print-and-Play gratuit, ses différents formats et modes de jeux…
Clash of Decks est de retour pour soutenir l'Ukraine !
La Russie a déclaré la guerre à l'Ukraine lorsque nous étions au Festival International des jeux de Cannes. Nous avons vraiment mesuré la folie de cette situation après l'euphorie et l'effervescence du festival. Nous savions que nous devions agir, de manière pacifique,avec nos compétences et nos moyens, pour soutenir l'Ukraine. Mais à ce moment-là, nous ne savions pas encore comment nous pouvions le faire. Il fallait trouver une idée pertinente rapidement ! Quelques jours plus tard, alors que nous étions sur Facebook, nous avons vu une illustration qui nous a bouleversés : une Ukrainienne qui vous fixe du regard, avec des tournesols dans les cheveux et des larmes plein les yeux qui roulent sur ses joues…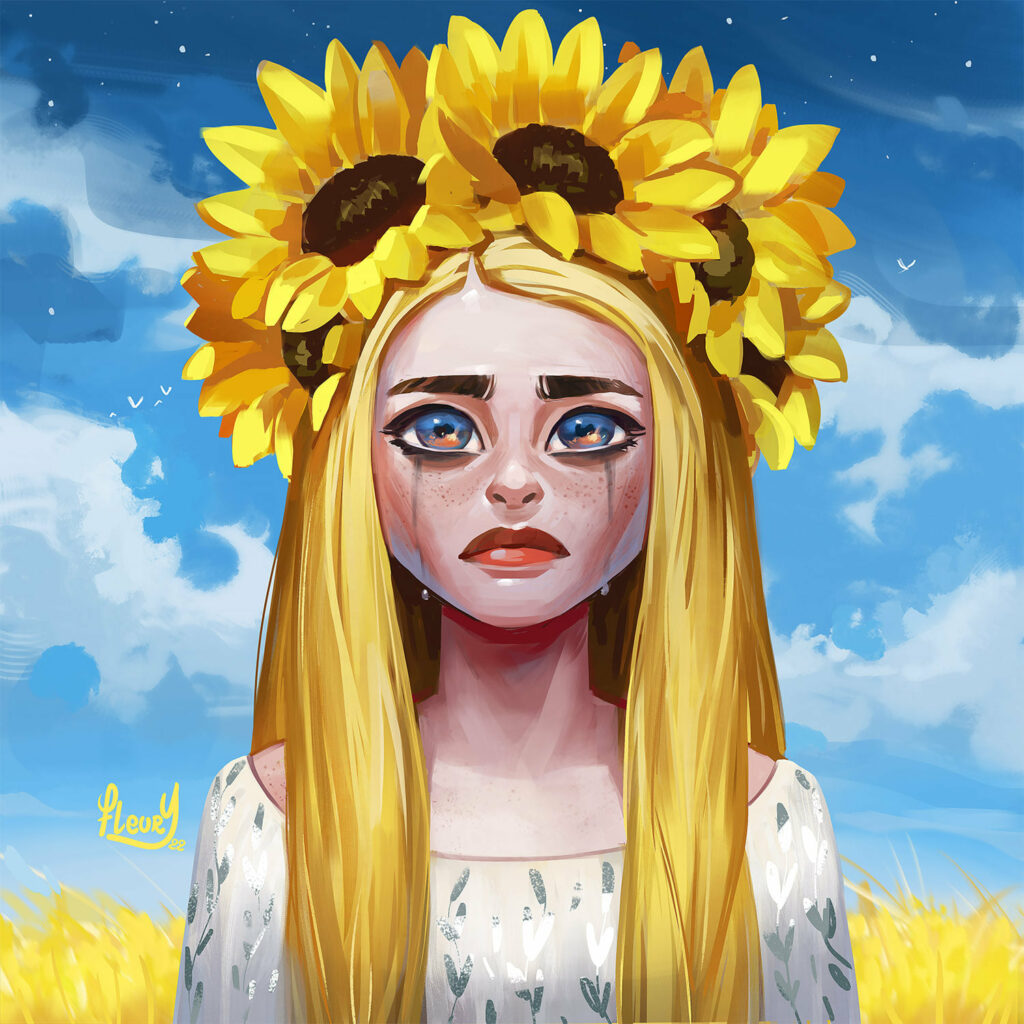 Ce fut une évidence, nous venions de trouver notre idée pertinente : créer une carte Champion exclusive avec cette illustration bouleversante pour notre jeu Clash of Decks et la vendre pour soutenir l'Ukraine ! Nous avons aussitôt contacté Jérémie Fleury, l'illustrateur. Après lui avoir présenté notre idée de campagne solidaire, il nous a fait l'immense plaisir de nous donner son accord pour utiliser son illustration. Jérémie est illustrateur professionnel et a travaillé sur de nombreux jeux de société (First Empires, Yamataï, Fertility, Oceanos…). Nous le remercions sincèrement pour son geste altruiste qui permet de donner vie aujourd'hui à cette campagne solidaire.
Concernant le gameplay, nous avons choisi de créer une carte Champion défensive. Avec un seul point d'attaque et 4 PV, elle possède aussi 3 capacités spéciales défensives : Protection (annule la première attaque subie chaque tour), Indestructible (ne subit pas de dégâts en provenance des Incantations) et Défenseur (ne peut pas attaquer le Fort adverse, uniquement les créatures). Nous l'avons créée avec l'idée d'en faire une carte résiliente et pacifique, à l'image de l'Ukraine et du peuple ukrainien.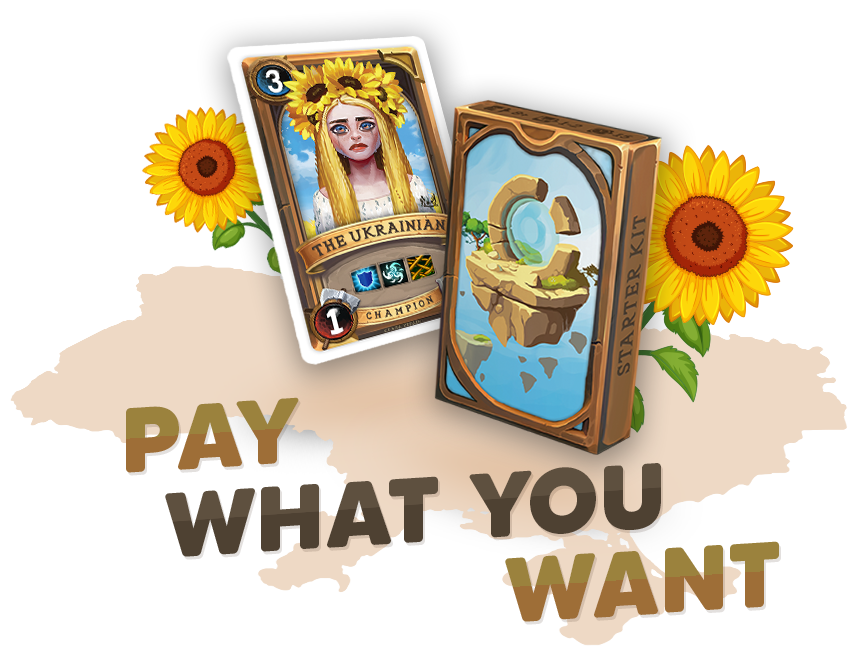 Nous proposons un pledge unique, limité à 4000 exemplaires. Payez ce que vous voulez (pour de vrai !) et vous recevrez en mai 2022 un Starter Kit de Clash of Decks ainsi que la carte Champion exclusive de l'Ukrainienne. Le Starter Kit est un deck autonome de 36 cartes permettant de découvrir facilement le jeu Clash of Decks. La carte Champion exclusive est une carte en PVC qui permet de jouer avec un nouveau module de règles. Tout l'argent récolté (hors frais bancaire et frais de port) sera reversé à l'organisation humanitaire de la Croix-Rouge pour soutenir l'Ukraine. Nous comptons sur votre mobilisation !

Les frais de port sont inclus dans le montant du pledge. La livraison des pledges est prévue pour mai 2022. Aucune taxe applicable. Les pledges seront expédiés depuis la France, sans numéro de suivi, dans une enveloppe bulle.
Les 4000 Starter Kits ont été fabriqués en Belgique, par Carta Mundi. Nous fabriquons nous-mêmes les cartes Champion, une à une, depuis notre bureau, avec notre imprimante Evolis Primacy. Nous avons déjà en stock les 4 000 Starter Kits de Clash of Decks (reliquat de la première campagne Kickstarter où nous avions expédié 36 000 Starter Kits sur les 40 000 commandés). Nous avons aussi en stock les 4000 cartes Champion en PVC prêtes à être imprimées. Grammes Edition assume en totalité les coûts de ces marchandises qui représentent 2720€.
Nous avons fait le choix de limiter le nombre de pledges à 4 000 en raison de notre stock disponible actuellement et du temps que nous pouvons accorder à cette initiative solidaire. En effet, comme nous sommes une petite maison d'édition, le temps est notre première problématique. Cette campagne spéciale n'était pas prévue dans notre planning mais nous considérons qu'il s'agit d'une urgence prioritaire. Si cette campagne atteint ses objectifs, nous devrons passer plusieurs dizaines d'heures à préparer et expédier les pledges, comme lors de la première campagne de Clash of Decks sur Kickstarter. Et nous le ferons avec plaisir !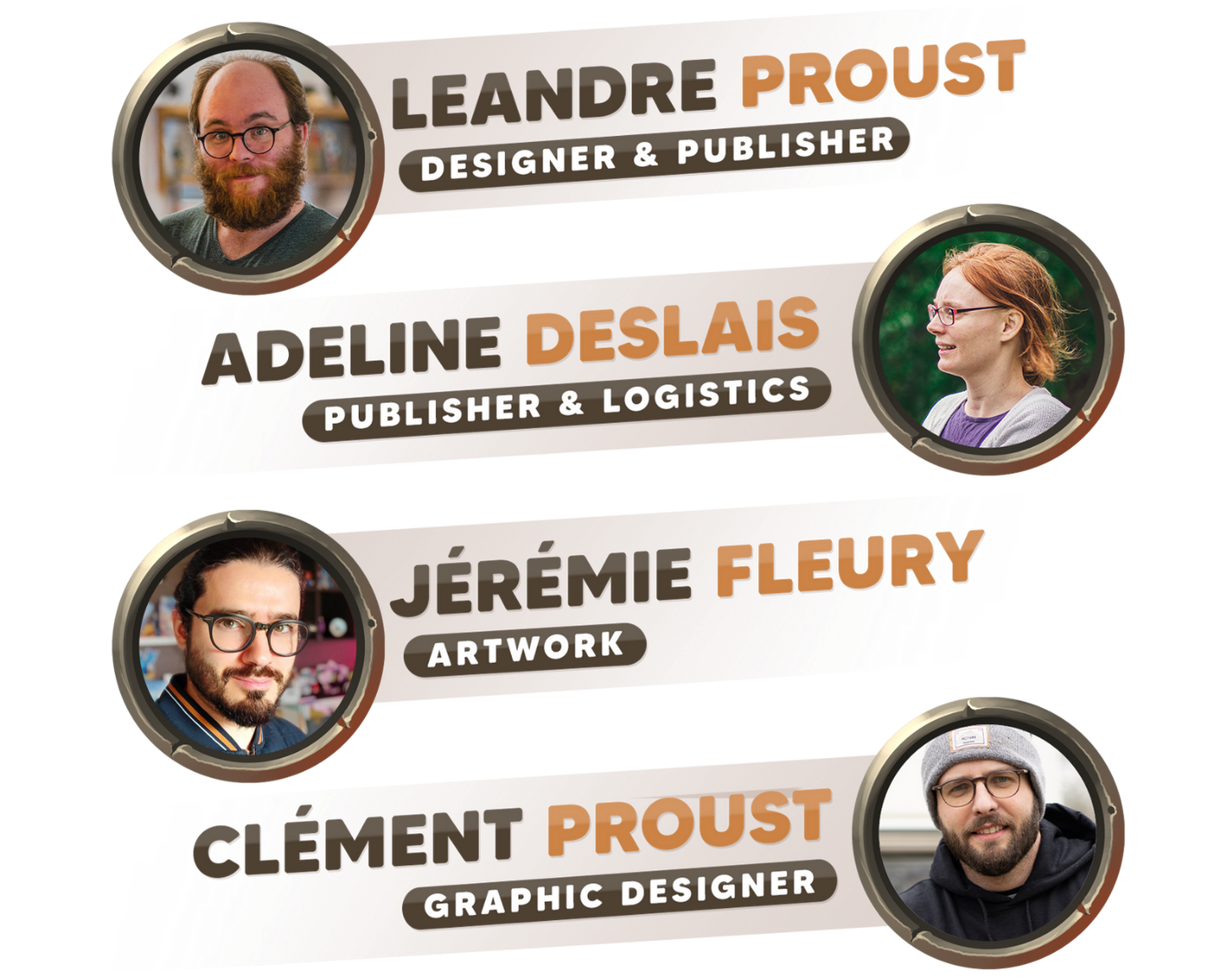 Merci à Albin, Siegfried et Estelle pour la traduction et la relecture du contenu de cette page ! ❤️
———-
Comme la générosité n'a pas de limite, nous vous invitons aussi à participer à ces deux autres initiatives solidaires :
Nous comptons sur votre mobilisation et nous vous remercions par avance de votre générosité !
Léandre & Adeline de Grammes Edition